http://www.diariodejerez.es/article...
La Escuela de Arte de Jerez comenzó hace tres años el Proyecto de Escuela de Comenius llamado "Europ'Art Puzzle", dentro del Programa Europeo de Aprendizaje Permanente. Durante este tiempo se han realizado diversas visitas, exposiciones, actividades y presentación de trabajos realizados por los alumnos de las cinco Escuelas de arte asociadas : Lycèe Marie Curie de Echirolles, en Grenoble, Francia ; Tallinna Kunstikool, en Tallinn, Estonia ; Stredni Prûmyslová Skola Keramická en Bechyně, en la República Checa ; Druskininku "Ryto" Gimnazija, en Druskininkai, Lituania y la Escuela de Arte de Jerez. Todas las actividades se han realizado cada vez en un país anfitrión. El pasado 13 de Noviembre volvimos a visitar uno de los países socios : Lituania. Esta vez llegamos hasta Druskininkai una población de alrededor de 35.000 habitantes al sur del país.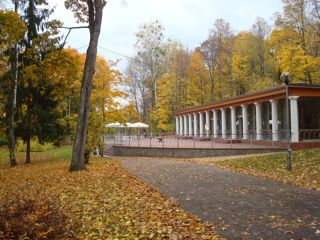 El instituto colaborador en el proyecto, Druskininku "Ryto" Gimnazija nos recibió en un paisaje increíblemente otoñal para nosotros, con unos bosques tan amarillos y rojos que no parecían reales desde nuestro otoño templado del sur de Europa.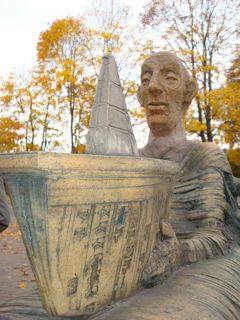 Presentamos los trabajos realizados con el tema común de "Sky", el mismo cielo para los alumnos participantes de cada país. Diferentes interpretaciones y técnicas : fotografía, grabado, pintura, collage, dibujo, imágenes digitales, objetos y cerámica se reunieron en la V.K. Jonynas Art Gallery conjuntamente con una muestra de los trabajos artísticos de los coordinadores del proyecto de cada país. Coordinador de Lituania Virginijus Sutkus, pintura. Marta Kotková, diseño gráfico profesora en la República Checa. Riste Laasberg, diseño textil y dibujo, Estonia. Geneviève Grousson-Troyes, pintura y Luisa Porras, escultura, España. La inauguración contó además con la actuación musical de tres alumnos lituanos.
De cada país asistieron también varios estudiantes de cada centro, que tuvieron la oportunidad de disfrutar de la hospitalidad de los estudiantes lituanos que los acogieron en sus familias y participar de las actividades, talleres artísticos y visitas preparadas para todos : Centros educativos, talleres de cerámica y escultura, museos, galerías y edificios significativos del entorno. La foto fue tomada en el "Europos parkas" de escultura contemporánea al aire libre (www.europosparkas.lt)
El próximo mes de Marzo la Escuela de Arte de Jerez tendrá la responsabilidad de recibir a todos los representantes de los países asociados y presentar en nuestra ciudad la exposición que recogerá todas las fases del proyecto en una muestra de los trabajos más interesantes y representativos realizados por los estudiantes de cada país.
Taking Art to Druskininkai
The Art School of Jerez began the present School Project called "Europ'Art Puzzle" three years ago while being in the European Programme (LLP) Lifelong Learning Programme. During this time students from the five associated Art Schools have celebrated different exhibitions, visits, meetings showing their own art works. These five art schools are : Lycèe Marie Curie in Echirolles, Grenoble, Francia ; Tallinna Kunstikool, in Tallinn, Estonia ; Stredni Prûmyslová Skola Keramická, in Bechyně, in Czech Republic ; Druskininku "Ryto" Gimnazija, in Druskininkai, Lithuania and Escuela de Arte de Jerez, Spain. These activities have been held each time in a host country. Last November 13th we visited again Lithuania, most exactly, we visited Druskininkai, a southern town with around 35.000 inhabitants. Our partner Druskininku "Ryto" Gimnazija welcomed us in an incredible autumnal landscape, where yellow and red trees were almost unreal compared to our warm autumn in southern Europe.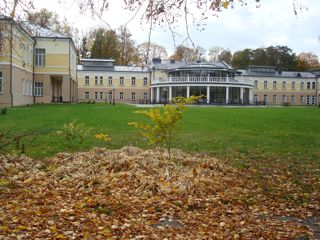 We showed then the art works made with one common subject for everyone : 'Sky', the same sky which is above every student in every country. All the works were interpreted in different techniques : photography, engraving, painting, collage, drawing, digital images, printings, objects and ceramics. All were shown in the J.K. Jonynas Art Gallery together with some of the art works of the project coordinators of every country : coordinator in Lithuania Virginijus Sutkus, painting. Marta Kotková, graphic design and teacher in Czech Republic. Riste Laasberg, textil design and drawing, Estonia. Geneviève Grousson-Troyes, painting and Luisa Porras, sculpture, Spain. During the opening of the exhibition a concert was also held by three Lithuanian students.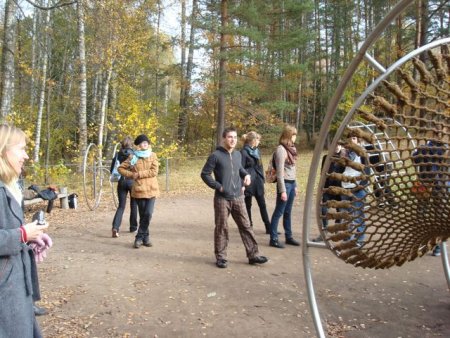 Some students from every country had also the opportunity to enjoy the hospitality of Lithuanian students because they were lodged in their own homes. They also participated in the interesting activities, workshops and visits that were scheduled for everyone : Educational Centers, Ceramic and sculpture workshops, museums, art galleries and significant buildings of the country. The picture was taken in 'Europos Parkas', an interesting Outdoor Sculpture Park www.europosparkas.lt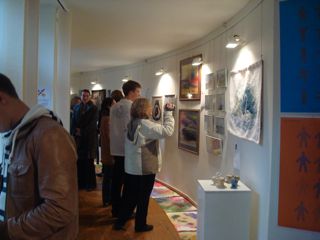 Next March our Jerez Art School will have the responsibility to host all the delegations of every country partner and show to our city the exhibition that will gather every step of the three year long project. Only the most representative and interesting art works of all the ones made by students from the five countries will be chosen for that event.
Diaro de Jerez,
Luisa Maria Porras