TOPICS 5 inspires EUROP'ART PUZZLE, we keep ourselves animated with animation films : The contest Topics 5 has opened the way to animation drawing and to short animation films where paper figurines, cardboard, plastilin and modeling clays of all sorts permits the most poetic narration and the most hilarious.
Since the jury in Estonia, check out what's new
http://topicseurop.free.fr/spip.php...
http://topicseurop.free.fr/spip.php...
http://topicseurop.free.fr/spip.php...
ANIMATION FILM ON CLAY : A COMMON PROCESS TO 5 COUNTRIES COMMITS WITH A NEW THEME « THE SKY »
The famous european « history » will once again put the finishing touches in a both ways mailing whilst waiting for the next Comenius meetings in Lithuania from October 13th to 19th and in Czech Republic from October 19th to 22nd as part of an exchange « Demain en main » with the Rhône-Alpes region. And we also have a new piece of work in progress : An animation film on clay that we would like to register for the Young Public Festival of the FIFAV :
We have already thought of a scenario for Europ'art puzzle's new theme : the sky...theme that is as « plastic » and iconagraphical. And between land and sky there is plenty to do !
FIFAV : THE SIXTH EDITION
The sixth edition of the film festival on clay and glass has hosted 1300 festival organizers on April 5 th and 6th 2008 at the Palais des Congrès, Montpellier. And we were there...The 2008 edition celebrated the 10th anniversary of the festival. Edition-event, it was rythmed by highlights and suprises : An inauguration night that was festive and convivial, a directing workshop in partnership with Channel Arte, and an exhibition at the Maison des Relations Internationales...also a big prize for the Art de France workshops attributed to Jeanne Hadorn's film « L'être et la forme », also very appreciated by the audience that attributed it the Audience Award.
The Young Public Award 2007 was issued to David Ferré for his animation film La saga des glaises. The Young Public Award 2008 for schools and high schools were both issued to Croatian director Tomislav Gregl for his animation film Malformance Performance, during the award ceremony for the Prize of International Film Festival on Clay and Glass on last April the 6th.
ARGILE, Minotauromaquia, Pablo en el laberinto | Juan Pablo Etcheverry | Espagne | 2004 | Animation | 9'20 min. ARGILE, Sound in clay | Sylvain Thirouin | France | 2007 | Expérimental | 5 min. ARGILE, Teapot | David Cushway | Grande-Bretagne | 2006 | Expérimental | 4 min. ARGILE, Terra incognita | Grégory Boutière | France | 2007 | Animation | 3'33 min. ARGILE, Les vitraux de Miquel Barcelo | Daniel Viguier | France | 2007 | Documentaire | 14'12 min. VERRE, Yixing, la reine des théières | Luc Bouery et Patrice Valfré | France | 2007 | Documentaire | 52 min. ARGILE.
Here are a few images brought back from Montpellier (in our discretion)
http://idisk.mac.com/groussontroyes...
THE ANIMATION FILM « LETTERS TO A CZECH FRIEND » AS PART OF THE MONTH OF GRAPHICS :
The scenario and story-board for « Letter to a Czech friend » will be ending in June in France with the A-levels class. Audrey Balland and Marie-Hélène Weinachter will initiate the students to scenario and story-board on an A3 format (layout and graphic techniques). Geneviève Grousson-Troyes proposes a puppets workshop to retie with the ancient processes that have made the success of the Czech's and the Polish's first animation drawings.
http://www.czech.cz/fr/culture/la-c...
The « letters to a friend » written with Corinne Lovera Vitali will be the object of a special edition, perhaps a booklet as part of the animation films DVD and a documentary « Making of » of 10 minutes directed by Archiclic Studio. In October Alain Markarian will probably be part of the trip among with us. What an animation...in the sky !
http://myspacetv.com/index.cfm?fuse...
A few references for the french latecomers :
Etienne Mineur's archives :
http://www.my-os.net/blog/index.php...,
A COLLECTION OF REFERENCES AROUND THE ANIMATION CINEMA, INSPIRED BY VIGO, ADE ITICA FORMATIVE
http://idisk.mac.com/groussontroyes...
This is what we have done with i. Stop Motion, Mathieu Besson and I in about 2 hours, under the expert's eye of Eric, in Lyon on the 12th of April. We still have to edit on i. Movie ro another sequential soft. With a title « Bonbours », some sound...we had some in project but it was brief. What appears important to teach you from Eric is principaly this :
A little Russian selection...to look out for on the web :
Youri Norstein, the Count of tales
Miaou ! Ladislas Starevitch's novel of the Fox that we had watched in class as a little film story...delicious !
The unknown pioneer of animation films Emile Cohl is at last celebrated until April the 13th at the French Cinémathèque. It is the occasion of revisiting in video the restaured version of « Fantasmagorie », an historical jewel restaured by Gaumont, followed by an image inalysis as poetical, check it on the Telerama website.
Oscar Winning, Closed Mondays 1974
Chris Wedge, Bunny (1998)
Editors : Les Films du Préau, Chalet Pointu Animators and studios : Aurhors Juliette Loubieres, Yamamura Animation, Jan Svankmajer, Will Krause, camillelvis ouebsaite. At the antipodes of the cartoon. Other plasticians (in progress) ; Nathalie Djurberg, Amateurs : Zombie Pirates, A Stop Motion Film by Marc Spess.
Allright, let's keep you going, a huge jump into space and time...so space, so Spess !
http://www.zombie-pirates.com/
Don't fall asleep in front of your screen...
Leo Bridle Films, My first step in clay animation
http://www.butch-and-willy.de/ Your Face Filmography - Lego movies Brickfilms
Aniboom - The home of animation, Grands studios animation : Aardman, Dreamworks, Folimage.com, Metronomic, Pixar, スタジオジブリ - Studio Ghibli, Petits studios d'animation : Eatpes, Home of the twiqted films of Pes, ScaryCat, Acme Filmworks, Loose Moose / Puppet, CGI and claymation PSST ! Pass It On...
The Pocoyo Blog :
Happy Flyfish
Phil Mulloy / Mundo Mulloy http://www.philmulloy.com/

Bill Plympton / Mondo Plympton, Norman McLaren / Dots (1940), Georges Schwinzgebel / peintures animées, Virgil Widrich / Copy shop / Fast film, Konstantin Bronzit / Au bout du monde, Jan Svankmajer / Dimension of dialogue, Michael Dudok de Witt / Father and daughter / Le moine et le poisson, Yuri Norstein / le petit hérisson dans le brouillard (Yozhik v tumane), Florence Miailhe / Les Oiseaux Blancs Les Oiseaux Noirs, Damien Louche-Pélissier et Benoît Chieux / Patate et le jardin potager, Jacques-Rémy Girerd / La Prophétie des grenouilles, Wallace et Gromit, Chris Landreth / Ryan Larkin, Isao Takahata / Le tombeau des lucioles, Miyazaki, Frédéric Back / L'homme qui plantait des arbres, Regina Pessoa / Histoire tragique avec fin heureuse.
The Monk and The Fish ( Le Moine et Le Poisson ) par Michael Dudok De Wit
"The sandman", Annecy festival 1993, strange film…
http://www.vivelesrondes.com/karen/...
The end…with the best one :
MUTO a wall-painted animation by BLU
http://www.blublu.org/sito/video/vi...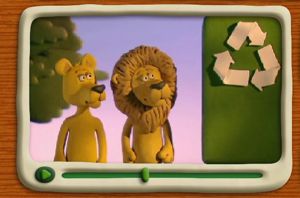 The Animals save the Planet. made by Aardman (stop motion) :
http://animalssavetheplanet.com/?pa...
Good trip o the web !
Geneviève Grousson-Troyes.