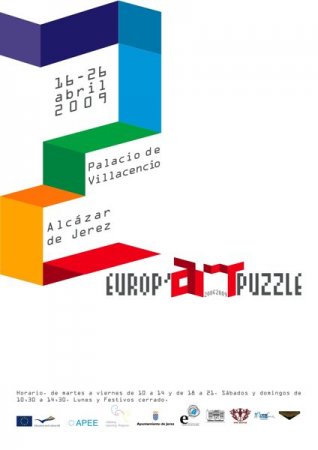 Europ'Art Puzzle is an European School Project, which has been active since 2006 and shows its final exhibition in Jerez now in April/May 2009 in …. It has been carried out in framework of EU Comenius educational projects and has been supported by many other organizations such as…
Europ'Art Puzzle is an art project. Students from five European schools have been working simultaneously on the following themes : My country as a sign, Borders, Sky, Typography and Meeting/Encuentros/Rendez-Vous/Kohtumine/Sétkani/Susitikimas during the three years.
Europ'Art Puzzle is a cooperation project of Lycée Marie Curie, France (coordinator Geneviéve Grousson-Troyes) ; Jerez School of Art and Design, Spain (coordinator Luisa Porras Lobo) ; Bechyne School of Ceramics and Design, Czech Republic (coordinators Marta Kotkova and Jiry Novotny) ; Druskininkai "Rytas" Gymnasium, Lithuania (coordinator : Virginijus Sutkus) and Tallinn Art School, Estonia (coordinator : Riste Laasberg).
Teachers and students of the five schools have had 6 project meetings : in November 2006 in Grenoble, in March 2007 in Jerez, in November 2007 in Tallinn, in April 2008 in Bechyne, in October 2008 in Druskininkai, in November 2008 in Grenoble. Meeting in Jerez 13-19 April 2009 is our 7-th meeting organized in purpose to build together a final exhibition and to make a compendium of the four years the five schools have been working together.
As one of the coordinators of the project I would like to thank all students and teachers who have contributed to the project and all the organizations, friends and family members who have helped ! Students' answers to the evaluation questionnaire show that students evaluated highly the opportunity to visite another art school in another European country. Many of them mentioned they practiced or experienced something completely new during the project meeting.
Consequently every coordinator and school made a very good work while planning and organizing the project meetings. Students also evaluated highly the free time they were given to spend together with their new foreign friends during project meetings. Many of them communicate via e-mail since then.
Knowledge and awarness of each others countries has increased, a book has been published together, several exhibitions in schools and public spaces have been organized, several workshops in each country have been carried out, several documentations of project meetings have been made. Teachers and students in five schools have been working seriously and hard in art classes, photo studios and workshops – this work together with international dimension, which has risen from the dense communication and organizing work of the coordinators, has given a lot of strength to the Europ'Art Puzzle project.
I hope the final exhibition Meeting/Encuentros/Rendez-Vous, Kohtumine, Sétkani, Susitikimas will bring a lot of joy and inspiration to Jerez people. We are glad to share students' art from five countries. Organizing the project has not been easy to the coordinators in every phase of the project but we have learned a lot and also enjoyed it a lot.
Arts and crafts, media art and design hold an important place in constantly changing Europe.
Ristè Laasberg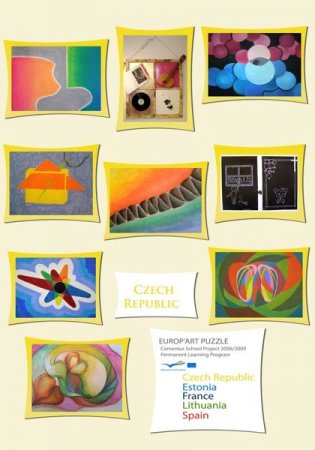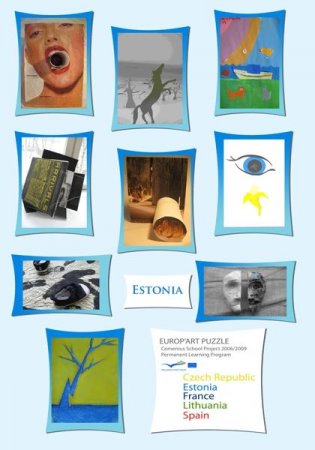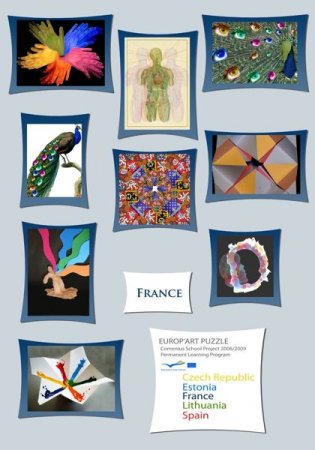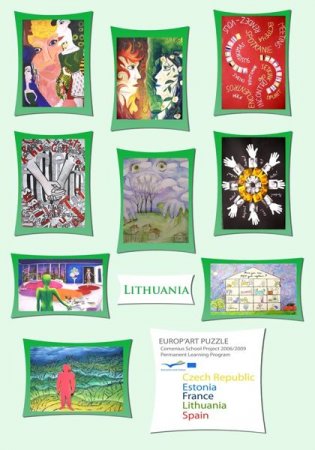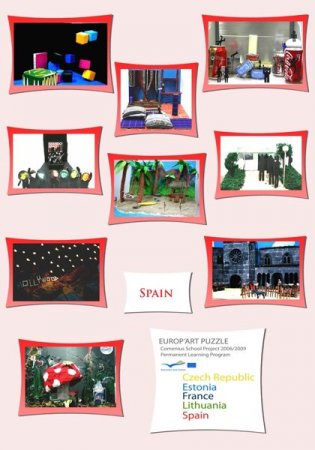 Thanks to Paulius Gvozdiovas for the banners !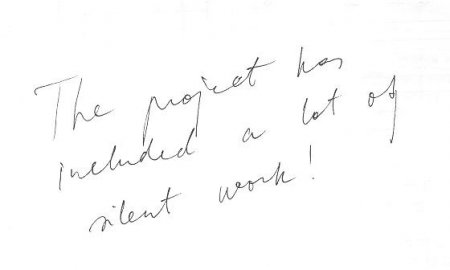 Dear all, many thanks and a lot of strength for "the process in a hurry" we are all having now. See the attachment with a note I found among my other papers… Riste