MEETING IN JEREZ DE LA FRONTERA (SP) http://idisk.mac.com/groussontroyes...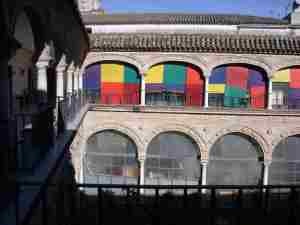 EXHIBITION IN GRENOBLE, http://idisk.mac.com/groussontroyes...
TRIP IN SPAIN (SP) http://idisk.mac.com/groussontroyes...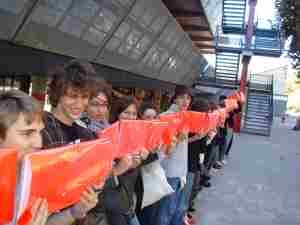 TOPICALITY / EUROP'ART PUZZLE
« My country is a sign » : hundreds of squares representing the countries take place in a puzzle via the internet. Each new square sent finds an equivalent in the other countries. They are as much indicative signals, kaleidoscopic vision of the national identities, convergent or divergent signs declined in multiple equivalences. These representations, in successive « mirrors » when reunited create a cultural ID where decline customs, history, arts, european techniques and civilisations.
The Estonian, Lithuanian, Spanish, Czech and French students « draw the portrait », « the cliche » of their identity.
From the 8th to 26th of January
« Borders » : The graphical works and multimedia express the limits and explore the frontiers, political and poetic of these same territories from now on open to exchanges, free movements of the persons and ideas.
The book « Europ'art puzzle » has been presented during the 14th edition of the triennale of Editing for the youth of Tallinn, galery of the kids of Kullo, at Tallinn, in October 2007.
The film « Pas sage(s), aux frontières », that was writen by Geneviève Grousson-Troyes, duration 26 minutes. Producted by Archiclic Studio, Directed by Alain Marie Markarian. This film « making of » gives the students the a chance to say what they think by backing their move. The individual experience becomes collective.
The graphical tools and multimedia support, by adoption of new scales of perception, take part in the broadening of their familiar environement up to their city, their country, Europe.
Credits : Tallinna Kunstikool (Estonia), Riste Laasberg ; Lycée Marie-Curie, Echirolles (France), Geneviève Grousson-Troyes ; Escuela de Artes Plasticas y Diseno (Spain), Luisa Maria Porras ; Druskininkai « Ryto » gimnazija (Lithuania), Virginijus Sutkus ; Stredni prumyslova skola keramicka Bechyne (Czech Republic), Marta Kotkova ; Ecole d'architecture de Grenoble (France), Yves Jaccoud.
The exhibition's scenography has been realised by students of arts and design of the Lycée Marie-Curie of Echirolles and the students of the Grenoble's School of Architecture ; Artistic Management : Geneviève Grousson-Troyes.